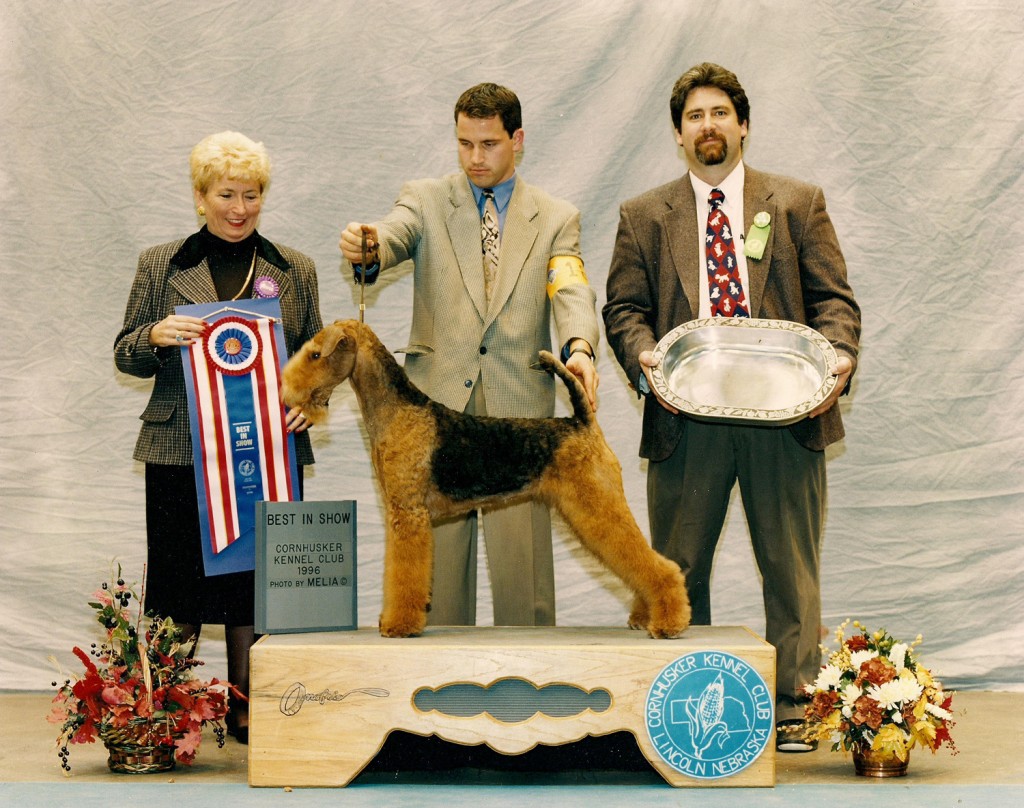 Am & Can Champion Tartan Scottshire Kristina – "Kristina"
DOB: February 14, 1994 to December 12, 2003
Sex: Female
OFA: Good
AKC Reg. # RM10952201
Sire: Ch Tartan Skyy King Osottshire RM05003104
Dam: Ch Tartan Kris' Miss Fancy RM03055802
Litters:
Randy x Kristina May 13th 1997
Mulder x Kristina October 28th, 1998
Get:
Am & Can Ch. Penaire Dallas Star
Ch Penaire Texas Bluebonnet
Ch Tartan Scottshire Ultra Glide
Am & Can Ch Penaire's Lonestar Cowgirl
Kristina was owner handled to her championship in 1996. As a special she ranked in the top ten for both 1996 and 1997. She had numerous group placements and a Group 1 under Harold Doerge that went on to Best In Show under Judge Betsy LeHam at the Cornhusker Kennel Club, November 1996.
At The Westminster Kennel Club,February,1997 she went Best Of Opposite Sex to her uncle Ch Tartan Scottshire Cowboy under Judge Anne Katona and handled by Doug Carlson.
Kristina retired in 1999 and moved to Nova Scotia where she enjoyed a life of leisure for five years – playing in the snow, basking in the summer sun and mentoring a Bearded Collie on how to become an "Airedale." On her days off she watched movies with Sue on the couch!
Thanks you Forbes Gordon and Carol Scott for this wonderful foundation bitch for Penaire.
Kristina was also used in the AKC Children's Book representing the Airedale Breed.
PARENTS
GRANDPARENTS
GREAT GRANDPARENTS
GREAT GREAT GRANDPARENTS
Ch Tartan Skyy King O'Scottshire
Finlair Scottshire Maui Kris
Ch Fonaire Iron Ancistrodon
ArgAm Ch Bravo Ironman of Santeric
Ch Coppercrest Peggy
Ch Finlair Isis
Ch Bravo True Grit
Ch Bravo Bonanza Belle de AAA
Tartan Queen Victoria O Scot
EngAm Ch Florac King of Scots at Stargus
Eng Ch Stargus Sea King
Florac Bruichladdich
Ch Tartan Southern Fancy
Ch Tartans Chief of the Clan
Ch

Tartan Fancy Miss

Ch Tartan Kris' Miss Fancy
Finlair Scottshire Maui Kris
Ch Fonaire Iron Ancistrodon
ArgAm Ch Bravo Ironman of Santeric
Ch Coppercrest Peggy
Ch Finlair Isis
Ch Bravo True Grit
Ch Finlair

Bodacious

Ch Tartan Fancy Miss
AmCan Ch Tartan Texas Ranger
Ch Bravo True Grit
Ch Bryn Hafod Hey Penny
Tartans Fancy of Tanworth
Ch Rudigan Robear
Dignity of Tanworth