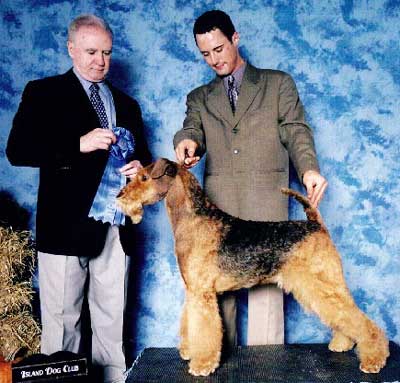 Breeder: Joan and Bill Clarke
Owners: Bill and Joan Clarke
Whelped: 1/16/01
GRANDPARENTS
GREAT

GRANDPARENTS

GREAT

GREAT GRANDPARENTS

Ch Reydale Prince of Thieves
Ch Terrydales Int'L Affair
Ch Brislines Lady's Man
Ch Sunnydales Doc Holiday
Ch Brislines Inspiration
Ch Terrydales Adorable Lady
Ch Finlair Tiger of Stone Ridge
Ch Briardale Luvs Elegant Lady
Ch Star Bliss Minerva
Eng Am Ch Florac King of Scots at Stargus
Eng Ch Stargus Sea King
Florac Bruichladdich
Ch Darbywoods Angel Fire
Ch Bravo Star Buck
Ch Darbywoods Eye of the Tiger
Ch Penaire Dallas Star
Ch Spindletops New Kid in Town
Ch Terrydales Int'L Affair
Ch Brislines Lady's Man
Ch Terrydales Adorable Lady
Ch Terrydale Spindletop Layla
EngAm Ch Florac King of Scots at Stargus
Ch Terrydales Lone Star Lady, CD
AmCan Ch Tartan Scottshire Kristina
Ch Tartan Skyy King O'Scottshire
Finlair Scottshire Maui Kris
Tartan Queen Victoria O Scot
Ch Tartan Kris' Miss Fancy
Finlair Scottshire Maui Kris
Ch Tartan Fancy Miss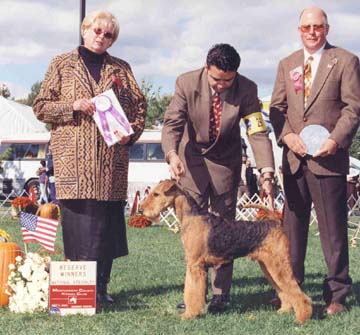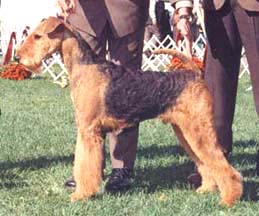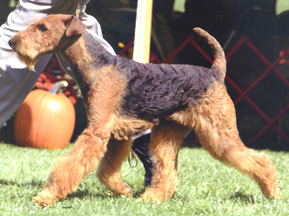 Moses wins Reserve Winners Dog at the Airedale Terrier Club of America-Montgomery County 2001 from the 6 – 9 Month Puppy Class.
Breeder/Judge: Mareth Kipp
Handled by Gerardo Reyes
Moses also won the ATCA 6 – 9 Month Puppy Sweepstakes Class
Breeder/Judge:  Anne Barlow
Moses won his Canadian Championship in August 2001 with a Best Puppy in Show, New Brunswick Kennel Club and three Best Best Puppy in Groups at other shows. Moses has a total of 5 Best Puppy in Groups.
Moses won Winners Dog – 5 point Major at Plum Creek Kennel Club of Colorado Airedale Terrier Club of America Specialty Weekend – February 2002