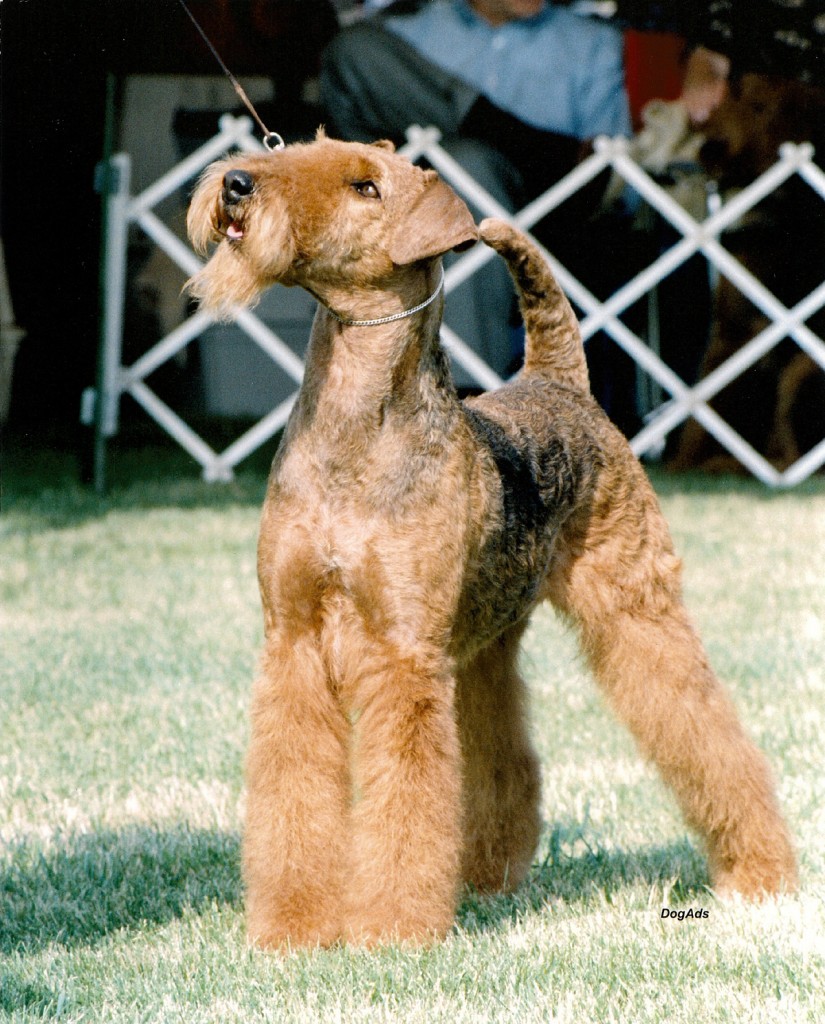 BIS Am & Can Ch Penaire Dallas Star – "Dallas"
DOB: May 13, 1997 – June 21, 2010
Sex: Female
OFA: Good
AKC Reg. # RM20746002
Sire: Ch Spindletop's New Kid In Town RM4648102
Dam: Ch Tartan Scottshire Kristina RM10952201
Litters:
Robin x Dallas, January 16, 2001
Simon x Dallas, April 26, 2003
Get:
Am & Can Ch Penaire Prince of Egypt
Am & Can Ch Penaire Belle Star
Ch Penaire Prince of the City
Am & Can Ch Penaire North Star
Am & Can BIS GR Ch Penaire Star Struck at Woodcrest
Ch Penaire Bright Star
Dallas was the epitome of a show dog and we delighted in her wonderful spunk and fabulous career, spanning over 11 years — from a top winning puppy in 1997 to becoming the #2 Airedale in the US in 1999 and then on to a top winning Veteran. She had multiple group wins and 7 Best In Shows.
Her retirement was filled with many happy hours walking on Second Peninsula in NS and Blue Heron in VA and lying on her favorite LLBean Bean Bag waiting for 4:00PM –"dinner time."
Dallas gave so much to Penaire and we miss her dearly!!
1997 – Best Puppy in Show
1998 – Best in Sweeps, Montgomery, Best of Winners, Devon, and owner handled.
1999 – Westminster, Best of Opposite Sex, #1 Airedale Bitch in Canada.
2000- Montgomery: Award of Merit
2002- National Specialty, Denver, CO, Best of Opposite Sex
2004- Montgomery: Best Veteran, Award of Merit
2006- ATCA National Specialty:
– Best Veteran, Best of Opposite Sex
– Ladies 100th Anniversary Specialty: Best Veteran, Award of Merit
– Framingham District All Breed Show National Specialty Weekend
– Best Veteran In Show – Boston, MA
2007- Montgomery: Best Veteran and Award of Merit (at 10 years old)
PARENTS
GRANDPARENTS
GREAT GRANDPARENTS
GREAT GREAT GRANDPARENTS
Ch Spindletops New Kid in Town
Ch Terrydales Int'L Affair
Ch Brislines Lady's Man
Ch Sunnydales Doc Holiday
Ch Brislines Inspiration
Ch Terrydales Adorable Lady
Ch Finlair Tiger of Stone Ridge
Ch Briardale Luvs Elegant Lady
Ch Terrydale Spindletop Layla
EngAm Ch Florac King of Scots at Stargus
Eng Ch Stargus Sea King
Florac Bruichladdich
Ch Terrydales Lone Star Lady, CD
Ch Finlair Tiger of Stone Ridge
Ch Briardale Luvs Elegant Lady
AmCan Ch Tartan Scottshire Kristina
Tartan Skyy King O'Scottshire
Finlair Scottshire Maui Kris
Ch Fonaire Iron Ancistrodon
Ch Finlair Isis
Tartan Queen Victoria O Scot
EngAm Ch Florac King of Scots at Stargus
Ch Tartan Southern Fancy
Ch Tartan Kris' Miss Fancy
Finlair Scottshire Maui Kris
Ch Fonaire Iron Ancistrodon
Ch Finlair Isis
Ch Tartan Fancy Miss
AmCan Ch Tartan Texas Ranger
Tartans Fancy of Tanworth
Dallas winning Puppy Group 1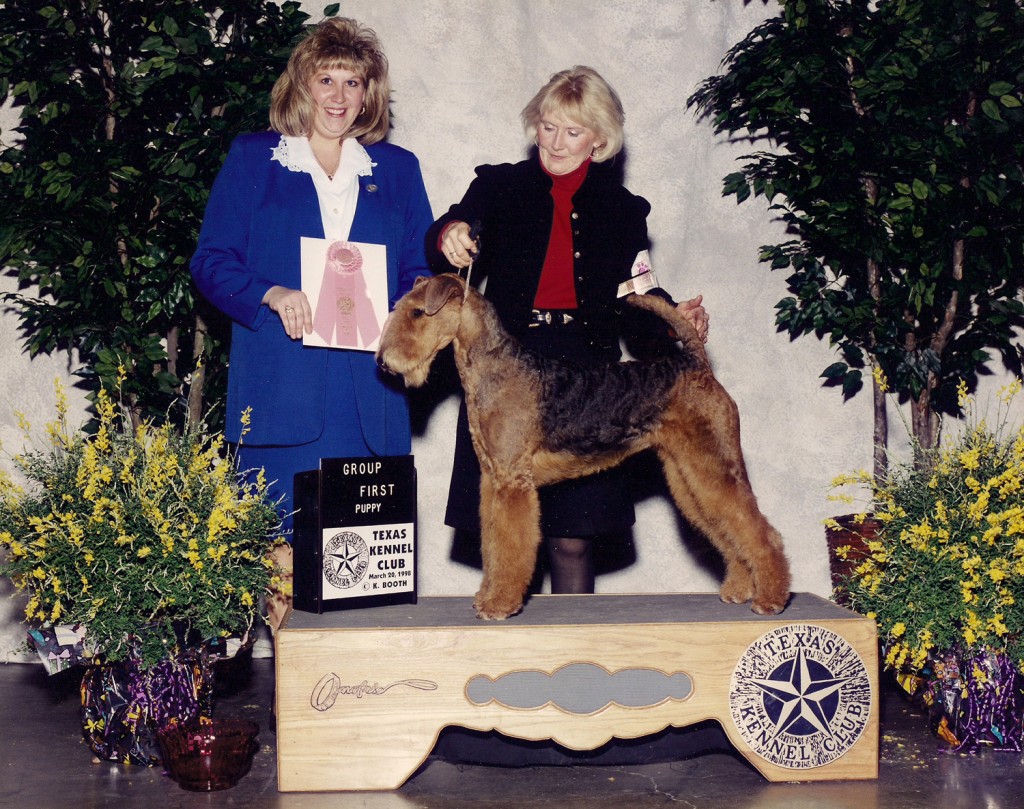 Dallas winning Best in Sweepstakes at Montgomery 1998 (Airedale National Specialty)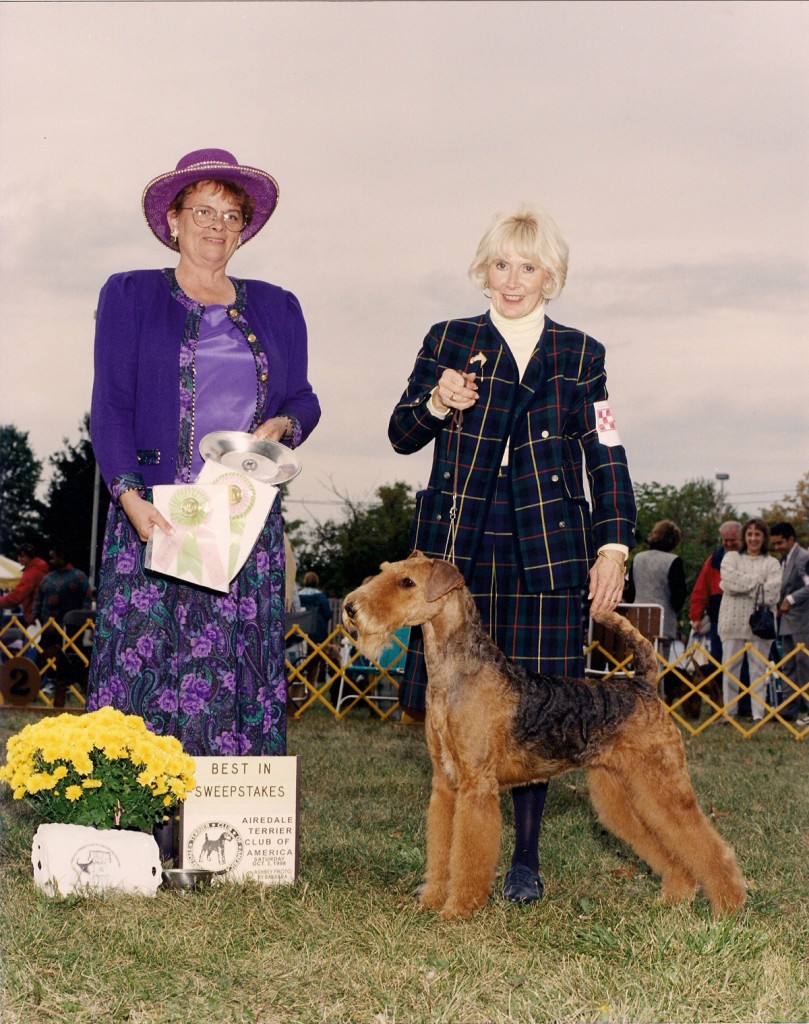 Dallas winning Best of Opposite Sex at Westminster 1999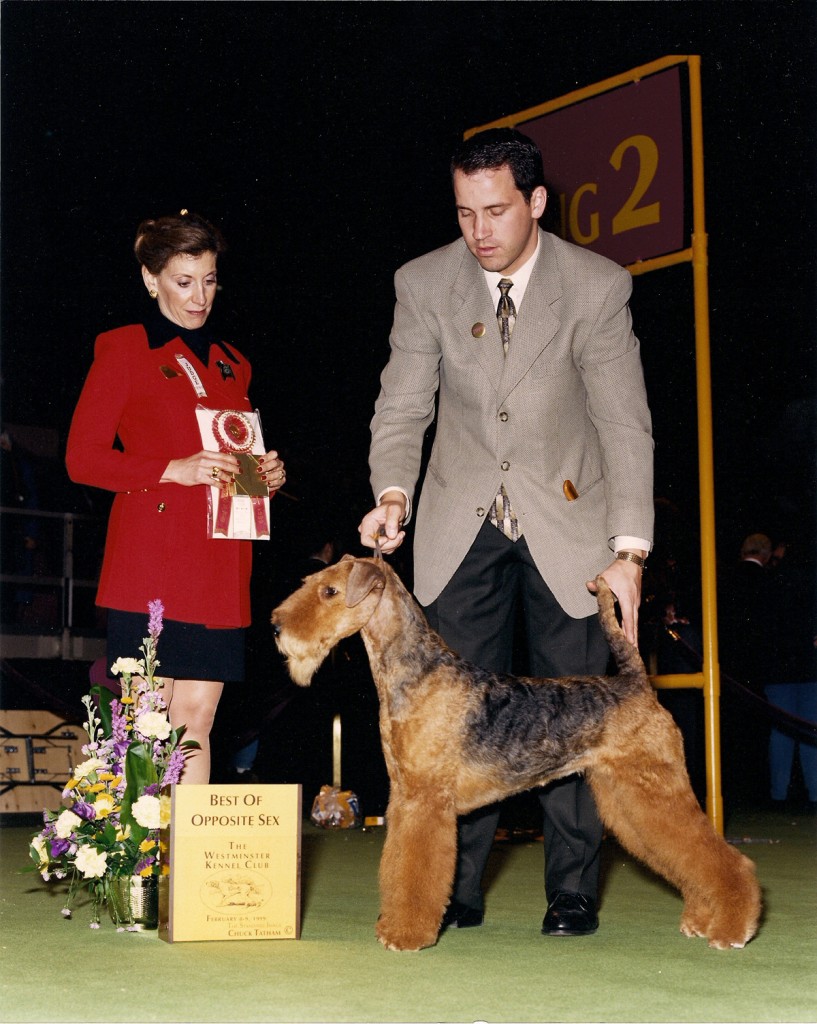 Dallas winning Best of Opposite Sex at the National Specialty 2002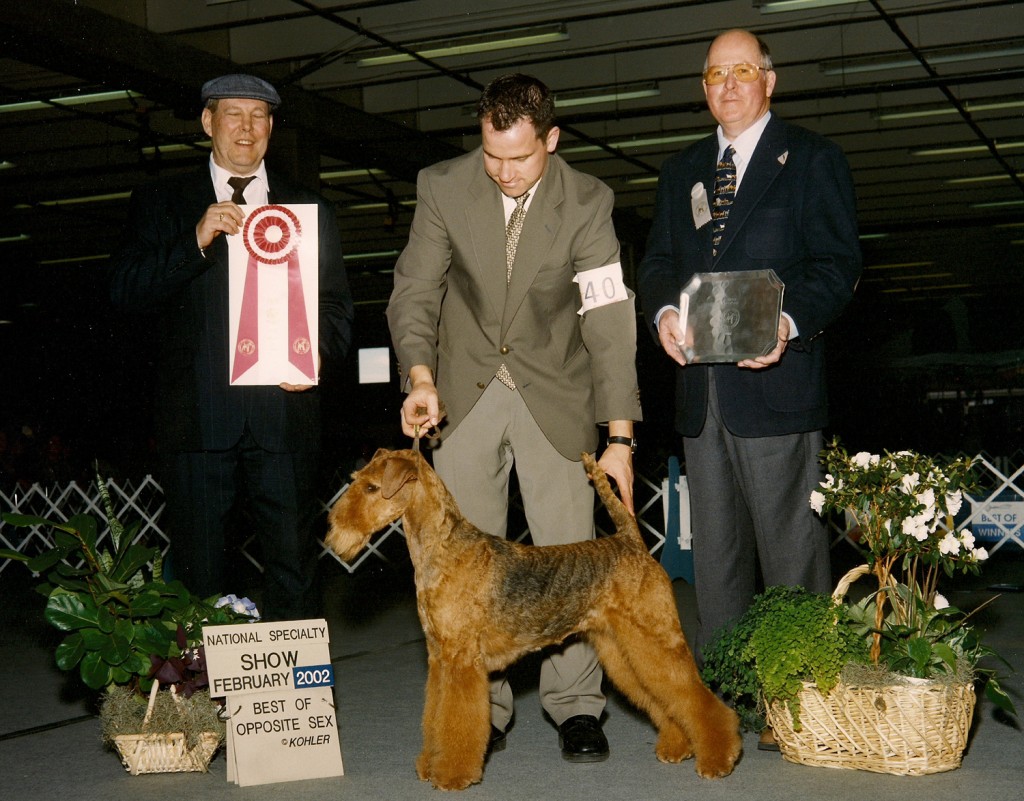 Dallas winning Best Veteran at Montgomery 2004 (Airedale National Specialty)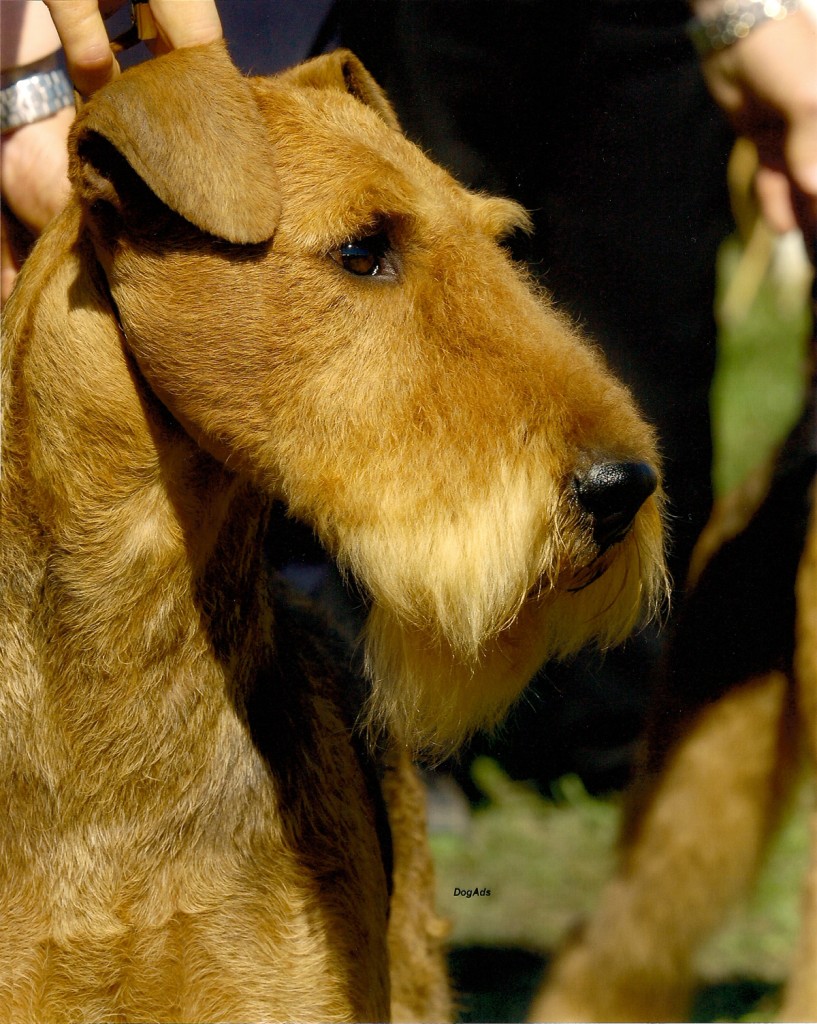 Dallas winning Best Veteran at Montgomery 2006 (Airedale National Specialty)